Welo Ka Hae Hawaiʻi – Celebrating Lā Hoʻihoʻi Ea
July 31 @ 6:00 pm

-

9:00 pm

$5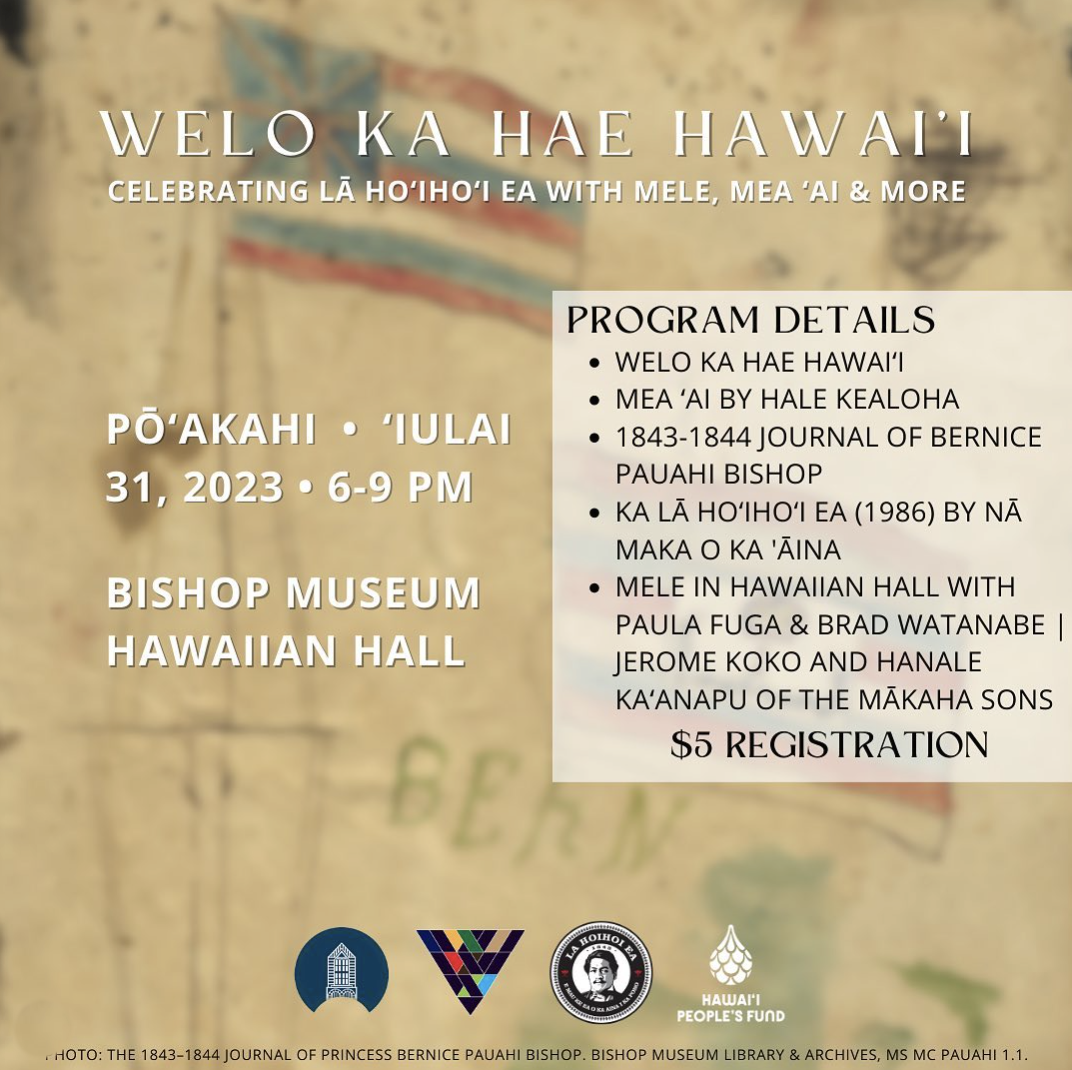 Established on July 31, 1843, by Kauikeaouli, King Kamehameha III, it became one of the first national holidays of the Hawaiian Kingdom. Lā Hoʻihoʻi Ea marks the return of political power to the government of King Kamehameha III after the British temporarily seized control of Hawai'i in 1843. Lā Hoʻihoʻi Ea was celebrated annually with great pride throughout the 19th century. There were large community gatherings and formal affairs hosted by the King himself. In the words of Kamehameha III, who proclaimed on this day, "Ua mau ke ea o ka ʻāina i ka pono" (The life [sovereignty] of the land is perpetuated in righteousness).
Join us for an evening inside the Hawaiian Hall with guest musicians and Museum staff in celebration of this national holiday of the Kingdom of Hawaiʻi. Program includes: 
Ka Hae Hawaiʻi
Guests will convene at the flag pole for the raising of the Hawaiian Flag 
Mea 'ai provided by Hale Kealoha
Enjoy pūpū and 'awa on the Gallery Lawns 
1843-1844 journal of Bernice Pauahi Bishop
Read the journal entries of Bernice Pauahi Bishop, which includes her illustrations of the Hawaiian flag and the Royal Standard along with her text describing her experience of Lā Hoʻihoʻi Ea.   
Ka Lā Ho'iho'i Ea (1986) by Nā Maka o ka 'Āina
This film documents the 1986 gathering at Thomas Square Park in Honolulu, the first of a series of ceremonies held every year since then to re-establish the celebration of Ka Lā Ho'iho'i Ea. Featuring Kekuni Blaisdell, Imaikalani Kalahele, Peter Kealoha, Homer Hayes, Pua Kealoha, Haunani-Kay Trask and Mililani Trask.  
Mele in Hawaiian Hall
Paula Fuga with Brad Watanabe
Plus, Uncle Jerome Koko and Hanale Kaʻanapu of The Mākaha Sons
Presented in partnership with La Hoʻihoʻi Ea
Registration is $5.00