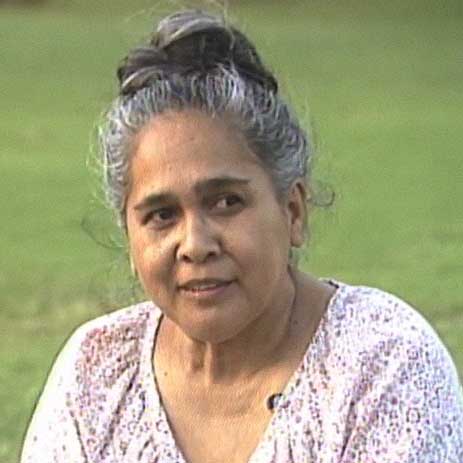 Judith Keonaona (Flores) Napoleon
One of the unsung leaders of the early Protect Kahoolawe Ohana and a dedicated grassroots organizer, Auntie Judy Napoleon was a native of Molokai who dedicated her life to serving her lāhui and āina. She was born as Judith Keonaona Flores on July 2, 1934 in Hoolehua to John Koomoa Flores and Louisa Punanaokamanuehaile (Rosa) Flores. The fourteenth of seventeen children, Judy spent her young life growing up on Molokai and later attended and graduated from Sacred Hearts Academy in 1952.  She returned to Molokai shortly thereafter and married Sherman Uaia Manuela Napoleon in 1953.  Together they have 4 children, 11 grandchildren, and 10 great-grandchildren.  While raising her own family, Judy loved the work that she did at Queen Liliuokalani Children's Center on Molokai, serving the children and families of her beloved island.
In addition to the kuleana she carried for her ohana and her job, Aunty Judy's life's passion was protecting and preserving land and native rights.  Her involvement and leadership in organizations like Hui Alaloa, Protect Kahoolawe, Ohana, Mālama Manae, Kaiaka Rock and many others led some on Molokai to describe her as "the mother of the grassroots native Hawaiian movement."  She often held strategy meetings at her family home in Kamiloloa, Molokai.  Judy inspired others to educate themselves about the issues and get involved. She urged kānaka, "If you have struggles in your backyard, take care of them. Don't wait for somebody else to come and tell you what to do. Go out there at do it."
In her early 50s, Aunty Judy was stricken with cancer. The disease and treatment took a toll on her body, but her family remembers her as "young at heart" until the very end. In the early morning on July 27, 1987 in Kaunakakai, her spirit took flight. Aunty Judy had given the entirety of 53 years to caring for 'ohana, community and lāhui.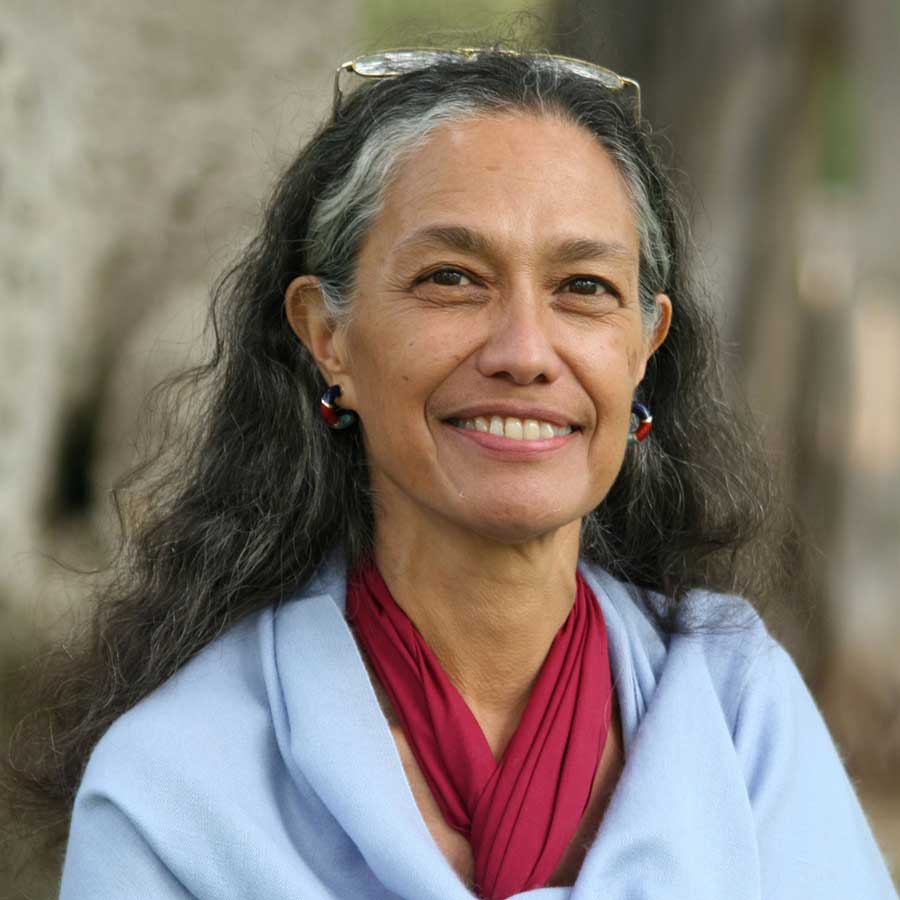 Dr. Haunani-Kay Trask
Born to a political family in 1949, Haunani-Kay Trask is one of the most important and influential Hawaiian nationalists of our time.  A great orator, Haunani-Kay developed her legendary skill by reciting her father's legal arguments from a young age. She graduated from the Kamehameha Schools in 1967 and then entered college at the height of the Black Power and anti-war movements on the US continent. She returned home just over ten years later, when she saw all the activism that was taking place around the protection of Kahoʻolawe. While finishing her dissertation, Haunani-Kay entered Hawaiian politics by working with the Protect Kahoʻolawe ʻOhana. After completing her PhD in political science through the University of Wisconsin-Madison, she became a professor at the University of Hawaiʻi at Mānoa.  Professor Trask served as the founding director of the Kamakakūokalani Center for Hawaiian Studies and led the charge to have the Hawaiian Studies building constructed.Professor Trask is a true public intellectual and a poet who has used both creative and analytical styles, both written and oratory forms in her fierce critiques of racism, colonialism, imperialism and sexism. She spoke truth to power. While the press routinely characterized her as a hysterical and irrational, angry Hawaiian woman, her students knew her to be a compassionate, generous and challenging teacher. She saw herself first and foremost as an educator, and she encouraged countless Hawaiian students to pursue higher degrees to advance the Hawaiian nation.  The legacy of her intellectual and activist work is immeasurable, and it lives on her students who continue to give breath to her powerful words: "We are not American! We are not American! We are not American! Say it in your heart. Say it in your sleep. We are not American! We will die as Hawaiians. We will never be Americans."
Saturday July 30, 2016
11 am House Music
12 pm Flag Ceremony
1230 pm Mana Carceras
115 pm Halau Hula o Na Pualei o Likolehua
145 pm Po and the 4Fathers
230 pm Super Groupers, Paniolo Prince, Mr. Kapu
315 pm Jah Maoli
400 pm Kapu System
500 pm The Vitals
600 pm Pau
Sunday July 31, 2016
11 am Kaukaohu Welaahilani
12 pm Flag Ceremony
1230 pm Palani Vaughan
100 pm Hula Halau Na Lei Kaumaka o Uka (waiting on confirmation)
130 pm Skippy Ioane
200 pm Imaikalani Kalahele and Peter Kealoha
300 pm Honoree Ceremony
330 pm Kupaaina
430 pm Ernie Cruz, Jr.
500 pm Liko Martin and Laulani Teale