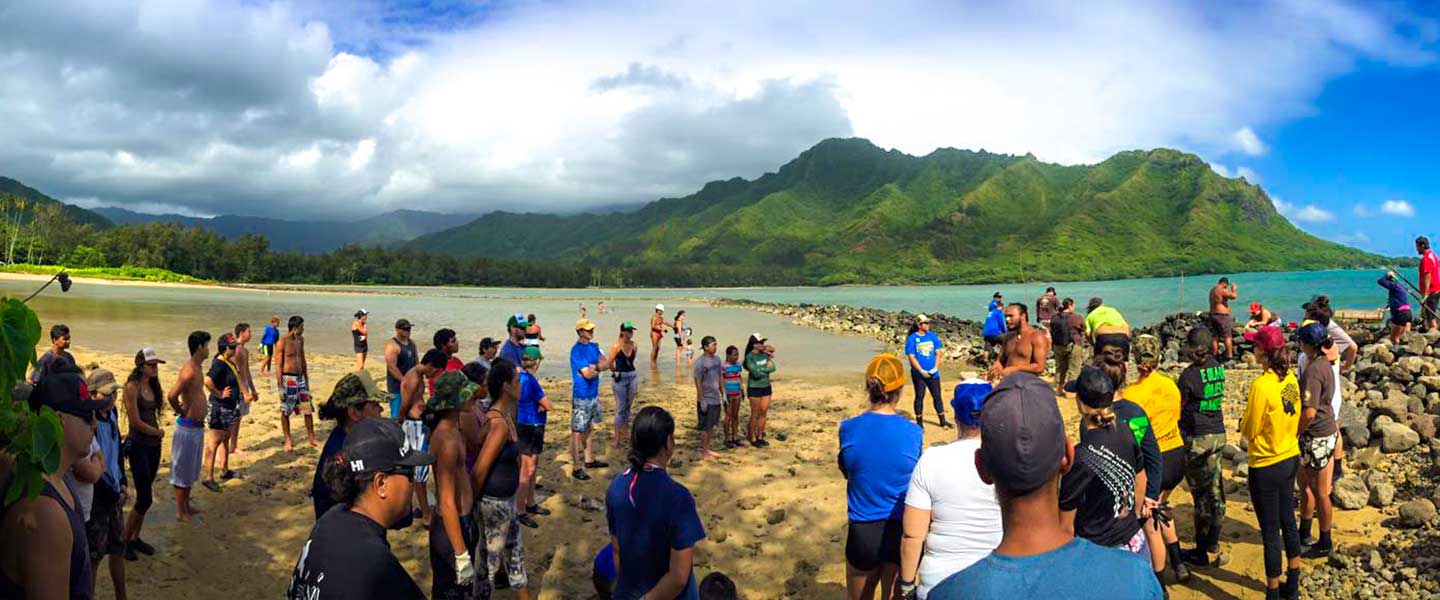 Aloha Aina KAHANA: RALLY IN THE VALLEY AT Huilua Fishpond
July 2, 2016, 7:00 a.m. – 3:00 p.m.
Where: Kahana Valley (52-222 Kamehameha Hwy, Kaaawa)
Description: Bring your ohana and enjoy a day of education, food, speakers, and music. This will be an active workday, helping to restore the Huilua Fishpond. Please prepare accordingly.
Contact: Peleke Flores: 645-0121
Hanakehau Workday and Film Screening
July 2, 2016,  9:00 a.m. – 2:00 p.m.
Where: Hanakehau, Waiawa (96-149 Waiawa Road, Pearl City)
Description: Huli ka lima i lalo (turn your hands in the soil) and help cultivate the efforts of small farmers in creating a cultural kipuka (oasis).
Contact: Andre Perez: 864-2336
Kaniakapupu Workday
July 3, 2016, 9:00 a.m. – 1:00 p.m.
Where: Kaniakapupu, Nuuanu (4295 Nuuanu Pali Dr, Honolulu)
Description: Return to one of Hawaii's most significant national landmarks, Kaniakapupu, and help revive our history and lahui by joining the restoration work with longtime caretaker, Dr. Baron Ching.
Contact: Dr. Baron Ching: 722-9358
Malama Makua: Makua Valley Access Tour
JULY 9, 2016, 8 A.M. – 12 P.M.
Where: Makua Valley, Waianae
Description: Join Malama Makua's Fred Dodge and Lynette Cruz on a working tour through Makua Valley and learn about the detrimental harm inflicted by the US Army's continued war exercises in the western district of Waianae. Space is limited. Please register by July 5, 2016.
Contact: Lynette Cruz: palolo@hawaii.rr.com
Ka Hoike Ea: Hawaiian National Ea-ducation Convention
JULY 9-10, 2016, SATURDAY 9 A.M.-4 P.M.,
SUNDAY 9 A.M.-2 P.M.
Where: Windward Community College (45-720 Keaahala Rd, Kaneohe)
Description: The first annual Hoike Ea Convention will invite educators and administrators to create a space, cultivate dialogue, and build a collaborative consensus on the direction of Hawaiian education moving forward.
Contact: Anu Ahwo-Chun: 927-2732
Na Hua Ea: CREATIVE PERFORMANCE NIGHT
July 16, 2016, 5:00 p.m. – 7:00 p.m.
Where: Papahana Kuaola (46 Haiku Rd, Kaneohe)
Description: Come enjoy a slam poetry night, drink awa, share potluck, learn, listen and even present a piece alongside some of Hawaii's groundbreaking poets and lyricists.
Contact: Aiko Yamashiro: 358-0871
Aha Mele Ea: Reggae and Hip Hop Concert
JULY 23, 2016, 9 P.M. – 2 A.M.
Where: NextDoor Lounge and Concert Hall (43 N
Where: NextDoor Lounge and Concert Hall (43 N Hotel St, Honolulu)
Description: Dance and celebrate with a new generation of musicians in a monumental evening of compilations and freestyles featuring Pacific Sounds Outernational with reggae artists, and local hip hop artists such as Kanakamon, Lion Fyah, Jah Maoli, Super Groupers, Paniolo Prince and
more.
Contact: Liloa Dunn: 223-0258
Detour Puuloa
July 23, 2016, 8:00 a.m. – 3:00 p.m.
Where: Meet at Sinclair Circle, UH Manoa
Event Description: Join Kyle Kajihiro and Teri Kekoolani of DMZ Hawaii Aloha Aina on a driving tour of different sites harmed or destroyed by the military. Seats are limited to 15 participants.
Contact: Kyle Kajihiro: 542-3668
Workday and Educational Tour of Pohukaina
July 23, 2016, 9:00 a.m. – 12:00 p.m.
Where: Iolani Palace (364 S King St, Honolulu)
Description: Return to Pohukaina, the original resting place of chiefs before the establishment of Mauna Ala, and learn about this historic site.
Contact: Lynette Cruz: 284-3460